Rita awarded Distributor of the Year (5 years in a row)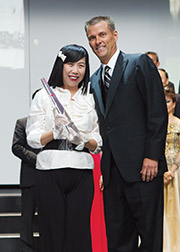 2014 Distributor of the Year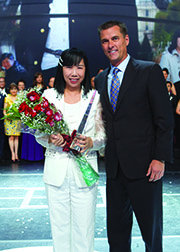 2013 Distributor of the Year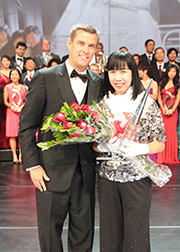 2012 Distributor of the Year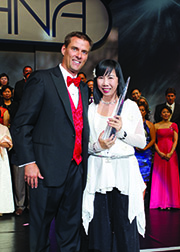 2011 Distributor of the Year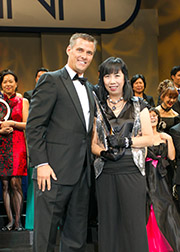 2010 Distributor of the Year

INTERVIEW WITH RITA

RITA HUI surpassed every other USANA Associate throughout the world to become the first 13-Star Diamond Director in the company!
Rita has written another new page in USANA's history with her recent advancement. She credits her success to a never-give-up spirit and a dedicated work ethic. "Working hard helped me achieve my goal," she humbly says.
Rita also provides her team with intensive training about the company, the products, and even their attitude. "I believe that attitude plays a great role in network marketing," Rita explains. For her overseas downline members, Rita usually uses e-mail or chat rooms to communicate with them on a regular basis.
Although Rita places a lot of value on training and communication, she also knows how to motivate her team with fun. "My group in Hong Kong loves to dance, so we often have dancing parties that allow the members of my team to get to know each other better," she says. "We all work very hard—sometimes all all night—but we also have a lot of fun together."
Rita was taught once that to know what was going to happen in her life in the next five years, she simply had to look back at her life during the previous five years. "This lesson always repeats in my mind, and I believe that what I am doing right now is preparing for my future," Rita says. "My USANA business is the only income which makes me feel secure for the future."
Compared to her previous profession, Rita sees USANA as a low-risk business. "Although the fashion and network marketing industries both need good people skills, there is a lot of money required to operate a fashion store," Rita explains. "The fashion business is also very unstable and sales are limited to certain markets." Her USANA business, however, "does not require a large amount of money to operate, and it's a business that can expand throughout the world. If we spend time and work hard, then all of us can greatly develop our USANA businesses, which in turn helps us gain stable incomes and improves our way of life."
Rita's decision to join a network marketing company in 1999 proved to be a good one. Choosing USANA as the company to join has proven to be an even better decision. "The cellular compensation plan is amazing," she believes. "That helped me make the decision to put all my effort into building a business with this company. From the very beginning, I saw that there was endless potential here." Finally, Rita encourages everyone that "nothing is impossible. When you set your goals, just work hard and you will achieve them."